The first Emerson College Wisconsin Poll of the Democratic primary finds Bernie Sanders holding a strong lead with 39% of the vote, followed by Joe Biden at 24%. In third place, Elizabeth Warren, the only other candidate in double digits, is at 14%. The poll was conducted March 15-17, n=324, +/- 5.4%.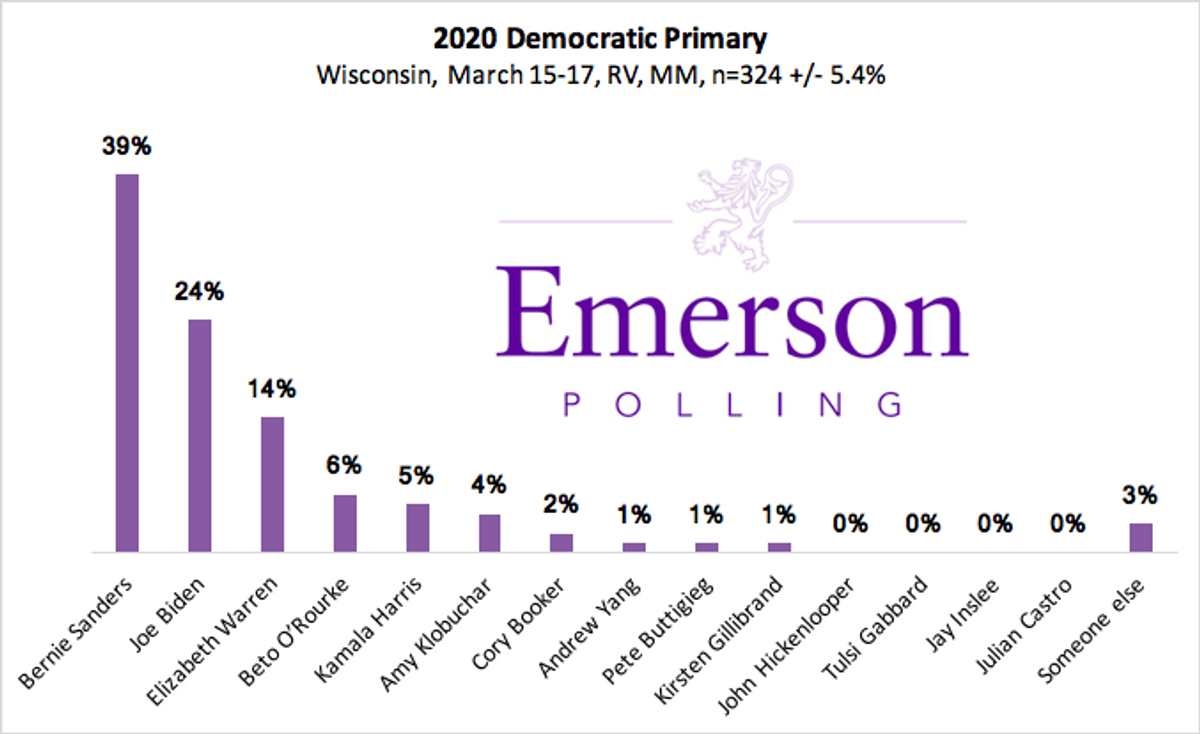 Sanders holds a large lead among 18-29 year olds, with 61% of the vote, while Warren is second with 15% of support. With voters over the age of 65, Biden leads with 38%; Sanders is in second with 26%. Spencer Kimball, Director of Emerson Polling, explains: "Unlike Michigan and South Carolina, where Biden competed with the youth vote, our poll shows that in Wisconsin, Sanders maintains the coalition he built in 2016 that earned him nearly 54% of the vote in the Democratic primary against Clinton."
If Joe Biden decides against running, it appears that this vote would split between Bernie Sanders at 23%, Beto O'Rourke at 20%, Kamala Harris at 16% and Elizabeth Warren at 14%. No other candidate receives over 10% if Biden does not run.
Democratic primary voters appear to be looking for a candidate on the left in terms of policy. Twenty-four percent (24%) of Democratic respondents reported they want policies that significantly move the party to the left; 31% want policies slightly to the left. 30% said they want party policies to stay as is - with only 15% looking for the party to move to the right. Even with this desire for a move to the left, 84% of Democratic primary voters either somewhat, or strongly agree, that the Democratic Party represents their interests. Only 8% of respondents disagreed with that statement.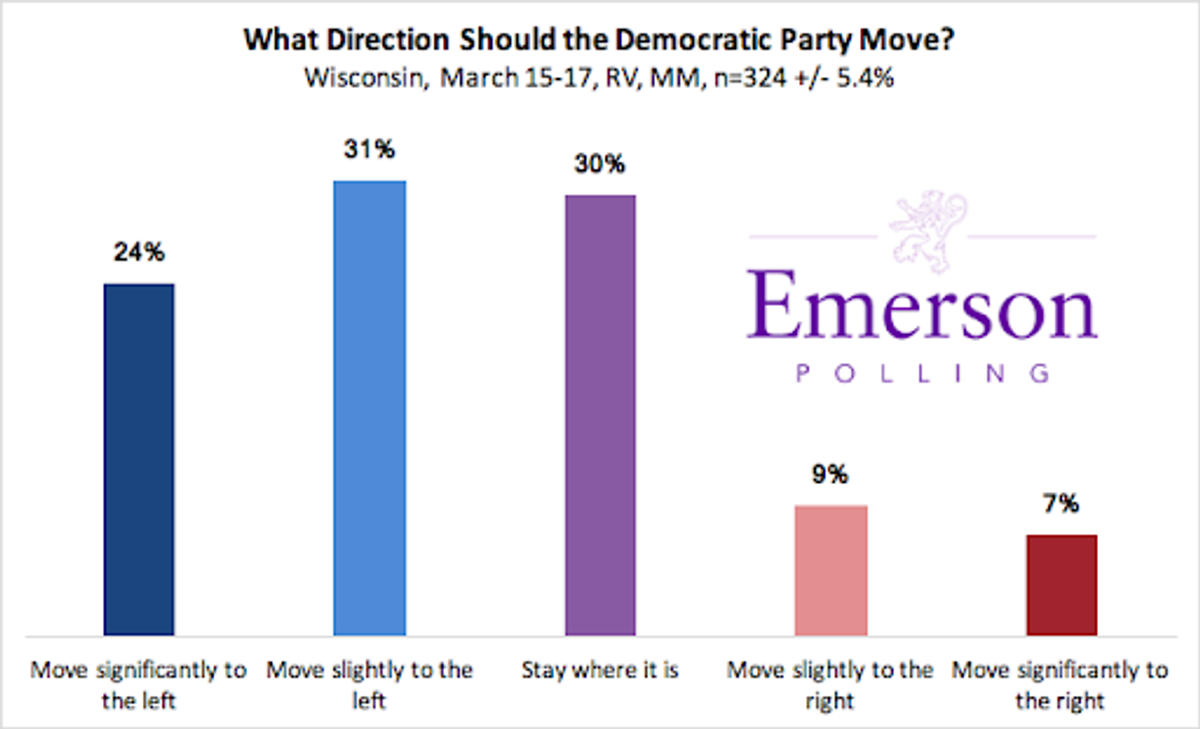 In the Republican Primary, President Trump holds a strong lead over former Massachusetts Governor Bill Weld- 89% to 11%; the President holds a similar lead over Weld in Michigan, New Hampshire and South Carolina. However, in the state of Wisconsin at large, Trump's disapproval is at 49%, with his approval at 41%. 45% of voters said they were likely to vote for Trump in the general election, with 55% indicating they were unlikely to vote for the President.. 50% of voters reported that their opinion of Trump has worsened since his election, as compared to only 31% who said that their opinion had improved since he was elected president.
Looking at statewide match-ups, Trump is tied with, or trails behind all of his Democratic rivals. Biden is Trump's strongest opponent, with a 54% to 46% lead over Trump. This matchup is the only one that is outside the margin of error. Sanders and Warren both lead Trump with a 52% to 48% split, and Harris and Klobuchar are tied with Trump - all within the margin of error.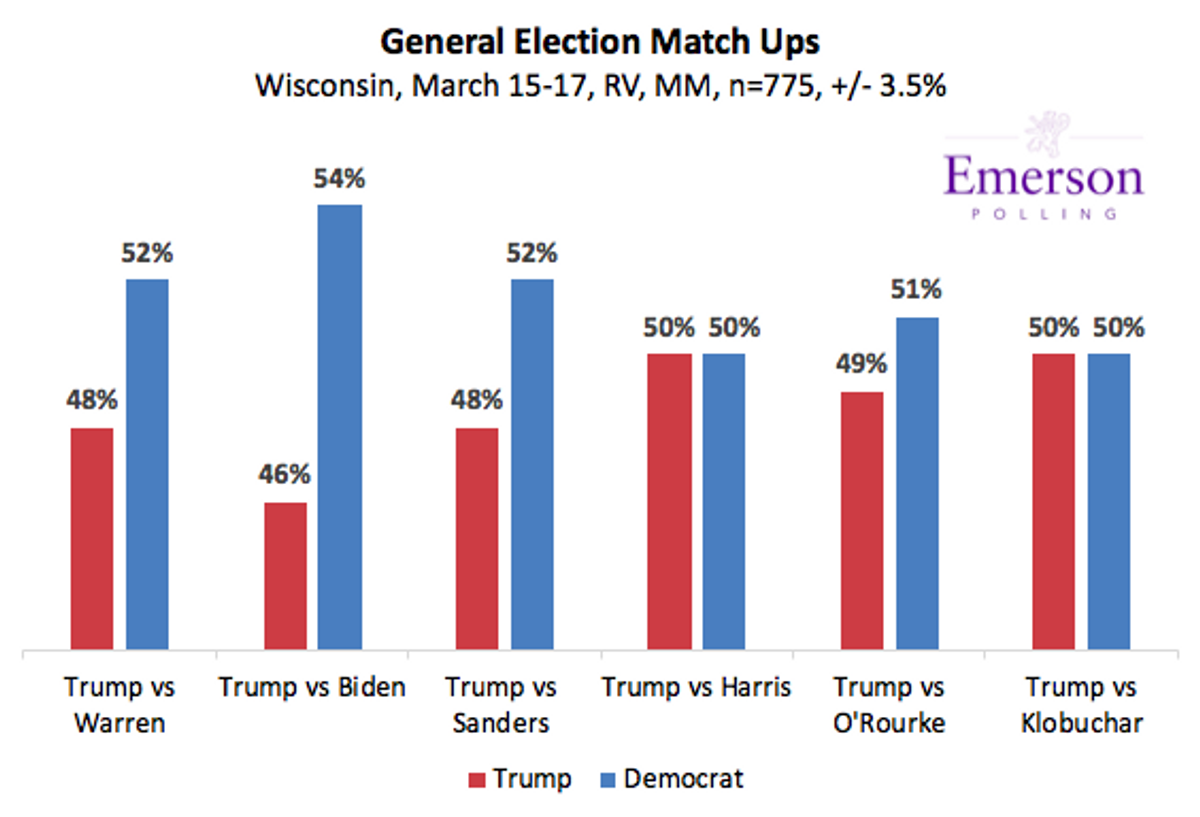 When Howard Schultz is inserted into hypothetical matchups as a third party candidate, the Democratic candidate's share of the vote drops. Biden receives 54% of the vote when it's just him against Trump, but his share of vote share drops to 51% when Shultz presents himself as an option. Trump's vote share drops only by 1%. The same applies to Sanders: he receives 52% of the vote against Trump in a head-to-head matchup, but it drops to 48% when Schultz is included.
When 2016 Trump voters were asked about their motivation for voting in the last presidential election, 60% said that they voted in active support of Trump, while 40% said their vote was more strongly motivated to vote for the President because of their opposition to Hillary Clinton. This mirrors the findings in last week's Michigan poll.
When asked about specifics regarding the President, 49% agreed that he has kept his campaign promises; 51% claimed that he has not. Voters are split on Trump's handling of specific issues:
Abortion: 49% approve, 50% disapprove

Immigration: 47% approve, 52% disapprove

Healthcare: 42% approve, 58% disapprove

Foreign Policy: 46% approve, 54% disapprove

Economic Policy: 50% approve, 50% disapprove
Cable news continues to be the most trusted source of information for a plurality of voters at 40%, followed by Online (26%) and Newspapers (23%). Social media ranked 4th at 11%. Fox News ranks as the most trusted source of television news, with 36% of Wisconsin voters citing it as their most trusted news source. MSNBC was second at 19%, with CNN in 3rd with 16%, CBS ranked 4th at 11% followed by NBC at 10% and ABC at 9%.
Voters are overall supportive of the Democratic convention being held in the Badger state, with 59% approval and 16% disapproval. Hosting the convention has bipartisan support, with 35% of Republicans supporting and 29% opposing the convention being held in Wisconsin.
Caller ID
The Wisconsin statewide Emerson College poll was conducted March 15-17, 2019. The sample consisted of registered voters, n=775, with a Credibility Interval (CI) similar to a poll's margin of error (MOE) of +/- 3.5 percentage points. The data was weighted based on 2016 voter model, age, ethnicity,gender and region. It is important to remember that subsets based on gender, age, party breakdown, ethnicity and region carry with them higher margins of error, as the sample size is reduced. Data was collected using both an Interactive Voice Response (IVR) system of landlines only (n=562) and an online panel provided by Amazon Turk (n=213). Visit our website at ​ www.emersonpolling.com ​.
Follow us on Twitter ​@EmersonPolling