A national Emerson College Poll finds President Joe Biden with a split job approval among registered voters: 47% disapprove and 46% approve of the job he is doing as President. Seven percent (7%) are undecided. Biden's approval rating has gone down since the last Emerson national poll in February, where his approval was at 49% approve and 39% disapprove, with 12% undecided.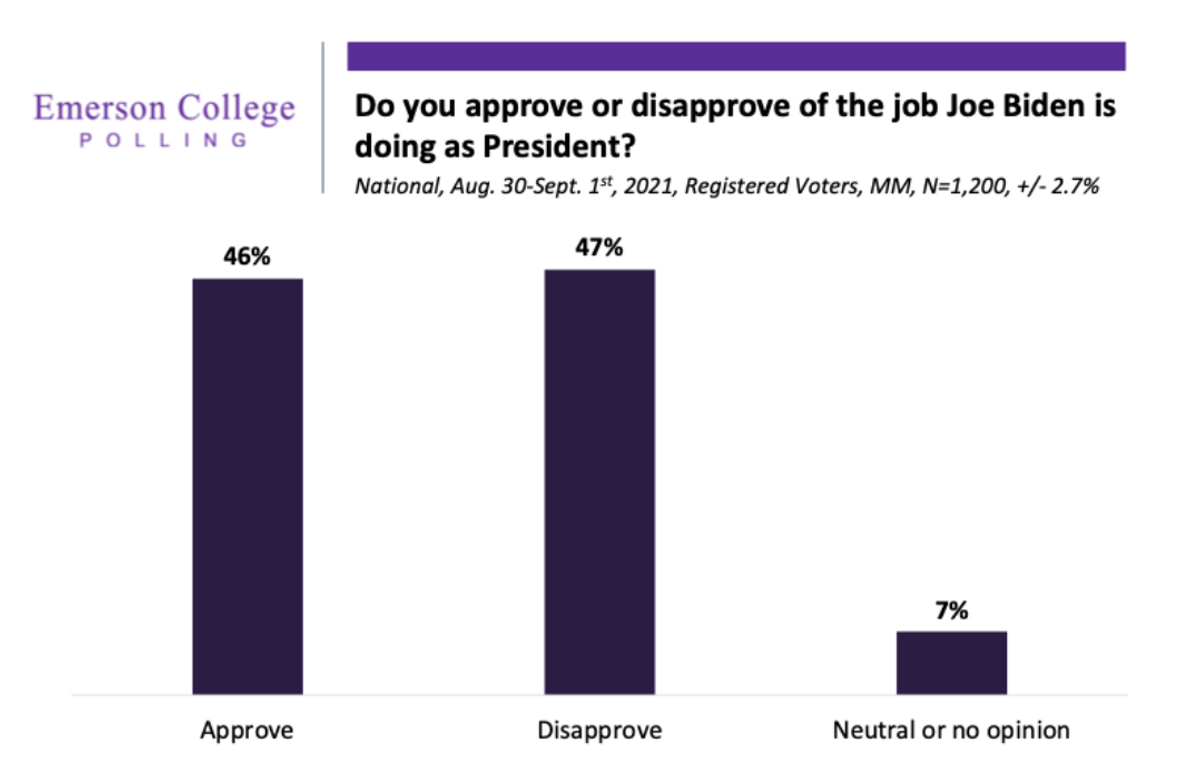 Among Democratic voters, 60% said they would like to see Biden as the 2024 presidential nominee, 39% said they would rather it be someone else (n=450, +/-4.6%).
Among Republican voters, a majority (67%) said that they would vote for former President Donald Trump in a hypothetical Republican primary with 7 other candidates. When Trump was listed as a potential candidate, Governor Ron DeSantis was the only other candidate who got double digit support at 10%. When Republican voters were presented with the same candidate options excluding Trump, the race tightens, with DeSantis at 32%, former Vice President Mike Pence at 24%, Senator Ted Cruz at 13% and former Governor Nikki Haley at 10%. No other candidate was in double digits (n=395, +/-4.9%).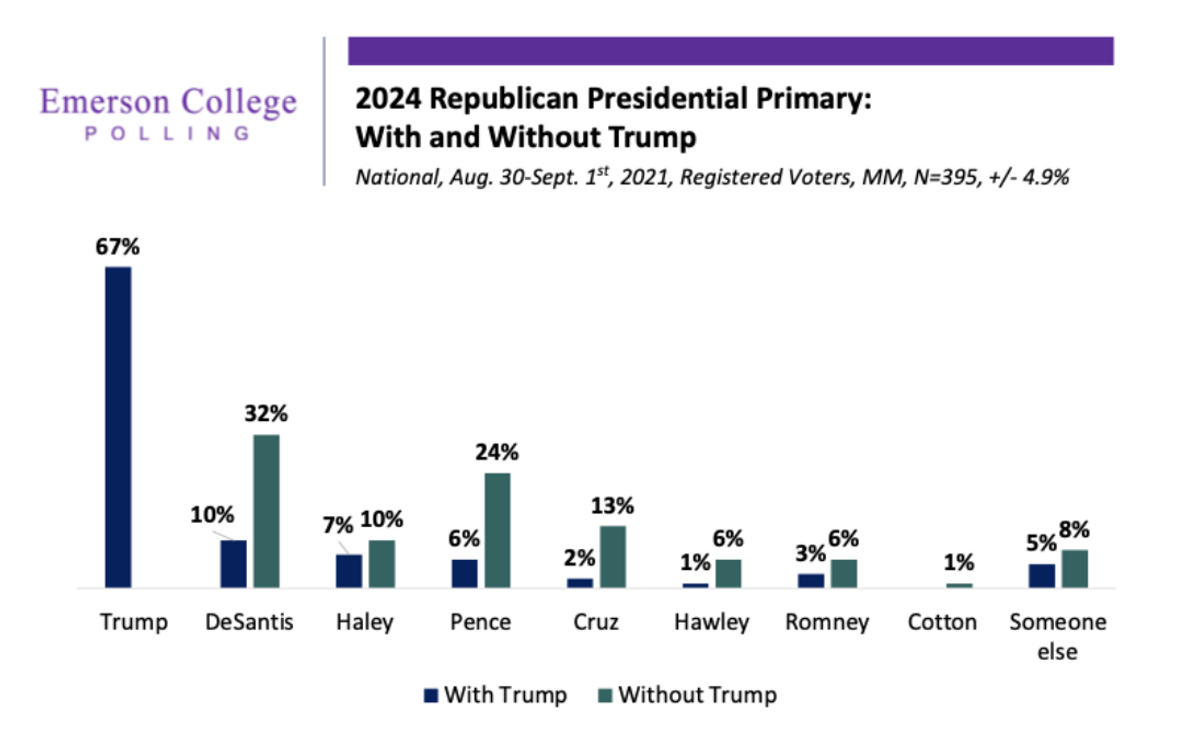 Voters were asked about a series of hypothetical 2024 matchups. If Biden and Trump are the eventual nominees in 2024, Trump is slightly favored with 47%, while Biden is at 46%. Biden is stronger against DeSantis, with a 48% to 36% advantage. However, when Mitt Romney was listed as the potential Republican nominee, the vote splintered, with Biden at 42%, Romney at 23%, and 29% indicating they would vote for someone else.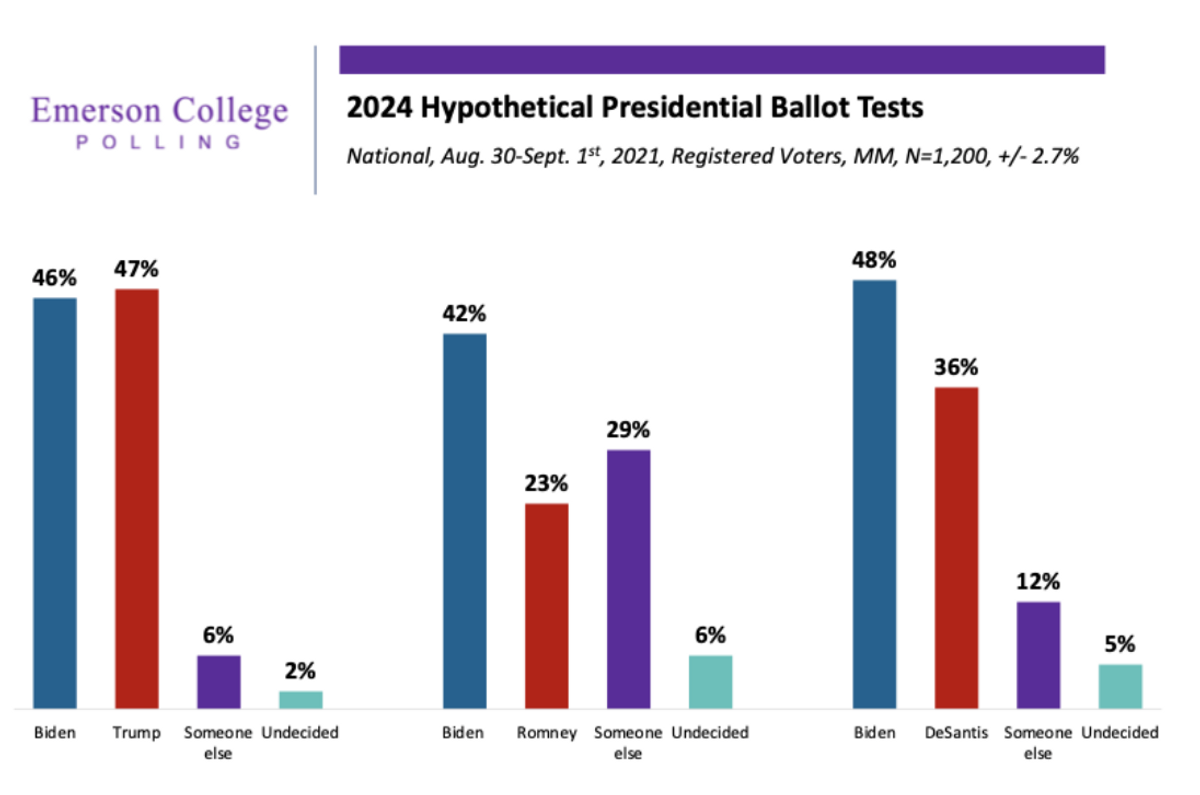 Spencer Kimball, Director of Emerson College Polling, said "Historically, this data reminds me of 1912 when Teddy Roosevelt failed to win the Republican nomination from then President Taft and created a third party dooming the Republican chances against Woodrow Wilson. This data suggests that Republicans want either Trump or a Trumpian candidate to be their nominee, or half of them may split from the party."
Regarding the upcoming 2022 midterm elections, it appears neither party has an enthusiasm advantage at this point, with 71% of Democrats and 69% of Republicans saying they are very likely to vote in the midterms.
Voters were asked their opinion about the outcome of the war in Afghanistan, and a majority (68%) believe that the United States lost the war in Afghanistan, while 32% believe the US won.
When asked which president holds the most responsibility for the war in Afghanistan, the plurality of voters (49%) think President George W. Bush holds the most responsibility, while 24% think President Joe Biden holds the most responsibility, 18% believe Barack Obama holds the most responsibility, and 10% say President Donald Trump holds the most responsibility.
When comparing responsibility and the outcome of the war, the majority of those who hold Bush (73%), Obama (70%), and Biden (68%) responsible for the war believe the US lost the war, whereas the majority (57%) of those who hold Trump most responsible for the war believe the US won the war.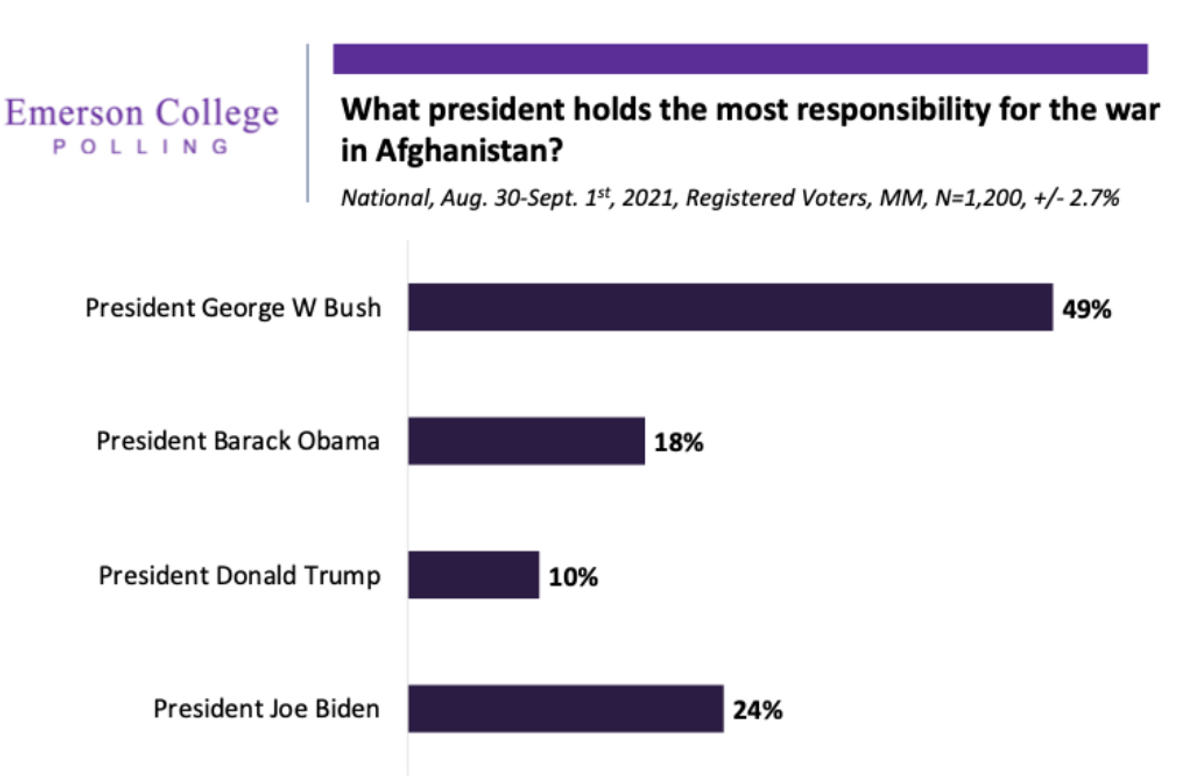 According to Spencer Kimball, Director of Emerson College Polling, "this comparison highlights the complexity of lasting conflicts. For three Presidents (Bush, Obama, and Biden), the voters see these presidents as responsible for the US losing the war, compared to the voters who saw Trump as responsible, who see his actions as why the US won the war."
Half of voters (50%) think the United States should not recognize the Taliban as the government of Afghanistan, while 21% support this action, and 30% are unsure.
Voters also were asked about vaccine policies. A majority (59%) of voters agree that businesses have the right to require their employees to get vaccinated, while 32% disagree, and 9% are unsure. There is a clear party divide regarding vaccine requirements: 75% of Democrats agree that businesses have this right, also favored by 50% of Independents, and 47% of Republicans.
A near majority, 49%, agree that the US Government should require everyone eligible to receive a Covid-19 vaccine. Thirty-nine percent (39%) disagree and 12% are undecided. Democrats are in favor 66% to 25%, Independents disagree 44% to 41%, and Republicans disagree 50% to 38%.
The majority (53%) of voters agree that large public venues, such as concert halls and stadiums, should require proof of vaccination. Thirty-five percent (35%) disagree, and 11% are unsure. Voters are more split regarding if shops, restaurants, and offices should require proof of vaccination: 47% agree, while 42% disagree. There are major party divides regarding requiring proof of vaccinations: the majority of Democrats agree shops should require proof of vaccination by +44 percentage points (68% to 24%). In contrast, the majority of Republicans disagree by -24 percentage points (34% to 58%), while Independents are also opposed by -12 points (37% agree to 49% disagree).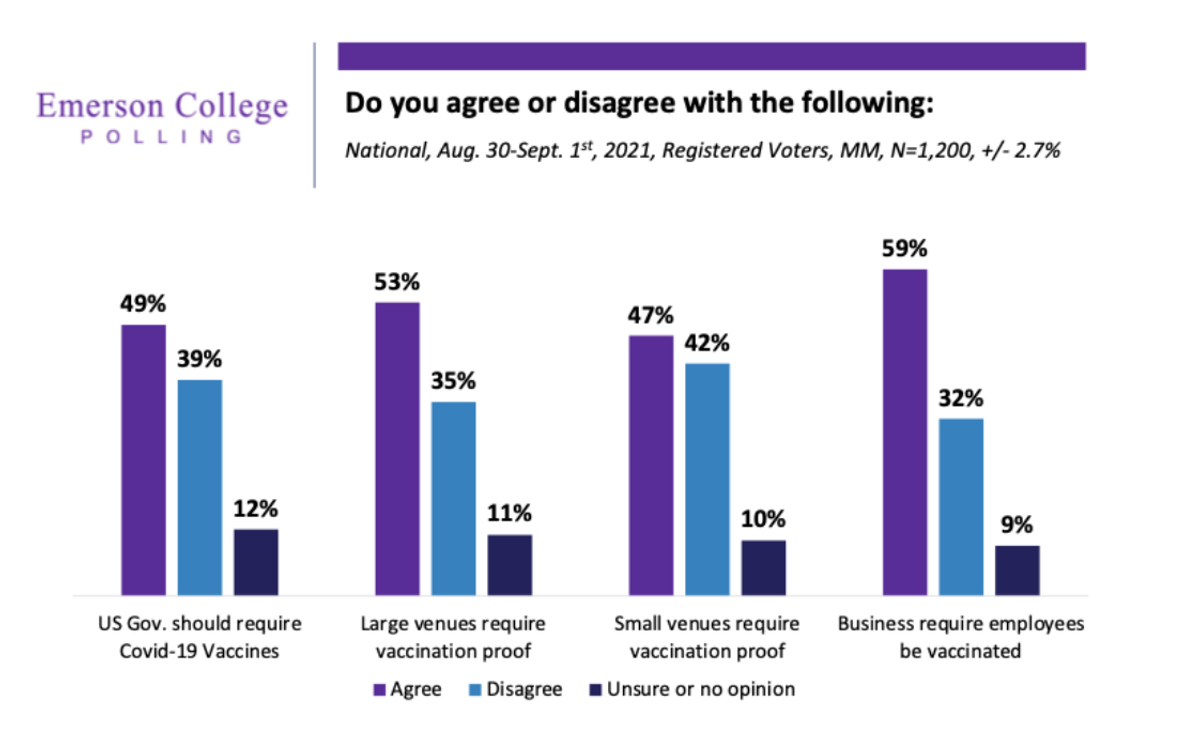 Last week, the California Parole board recommended parole for Sirhan Sirhan, who was convicted of killing Senator Robert Kennedy in 1968. Sixty-percent (60%) of voters disagreed with a release, while 21% agree and 19% are unsure.
Caller ID
The Emerson College national poll was conducted August 30-September 1, 2021. The sample consisted of registered voters in the United States, n=1,200 with a Credibility Interval (CI) similar to a poll's margin of error (MOE) of +/- 2.7 percentage points. The data sets were weighted by age, education, race, party affiliation, and region based on 2020 turnout modeling. It is important to remember that subsets based on gender, age, party breakdown, ethnicity, and region carry with them higher margins of error, as the sample size is reduced. Data was collected using a cellphone sample of SMS-to-web, an online panel provided by Amazon MTurk, and an Interactive Voice Response (IVR) system of landlines.